The turn of the Millennium
Date of issue: 30 June 2000
The Hungarian Post Rt. is, this year also, offering numerous interesting philatelic products to its clients. The special stamp issue of the year 2000 is the Turn of the Millennium miniature sheet. The issue will be published as a worthy continuation of the Total Eclipse miniature sheet, its nominal value will be equal to the number of the year of issue, in other words the last year of the millennium.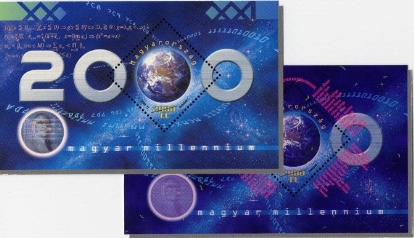 This miniature sheet is a real philatelic curiosity. It was made with offset, UV and screen-printing using OEI inks, which was used for the first time in Hungarian stamp printing, it was printed on protected paper and has a hologram on it, furthermore, it is also decorated with motifs that can only be seen with the naked eye under UV light.
On the miniature sheet everything takes place under the "aegis of numbers". The main motif is the number 2000 depicted as a part of the universe and in it there is the "blue planet". The Earth is surrounded by elliptical orbits, which are built up of roman numerals and year numbers described with the application of different number systems. Moving the miniature sheet, on the upper right and left sides, the roman numerals "XX" and "XXI" can be seen in fields changing from blue to green, symbolising the turn of the millennium.
On the circular, unique hologram is the portrait of Dénes Gábor (1900-1979), who was awarded the Nobel Prize for his contribution towards the discovery and development of the holographic method. Turning the miniature sheet by 90°, in the place of the portrait the theoretical drawing of the formation of a holographic picture appears. A further interesting feature is that the hologram has only been produced in a number equal to the number of miniature blocks issued.
By placing the miniature sheet in UV light the black serial number fluoresces green, along the stamp perforation the text "Jeles magyar matematikusok" (outstanding Hungarian mathematicians) can be read, as can the names of 57 outstanding Hungarian mathematicians.
Source: Magyar Nagylexikon (Hungarian large lexicon), 1999
Ordering code number: 2000110030011
Date of issue: 30 June 2000
Nominal value: HUF 2000
Number to be issued: 100,000 serial numbered miniature sheets
Perforation size: 35 x 35 mm
Cut size: 120 x 70 mm
Printing procedure: offset, UV and OEI ink screen-printing
Printed by Pénzjegynyomda Rt.
Designed by Imre Benedek