HUNGARIAN-JAPANESE JUBILEE YEAR
Hungarian-Japanese joint stamp issue
Date of issue: 16 October 2009
Japanese-Hungarian relations officially began at the time of the Austro-Hungarian empire in 1869. Legations were only opened in the two countries later in 1960, which were raised to embassy status in 1964. Relations between the two countries, however, only gained real impetus after the change of political system in Hungary
in 1989.
In relation to the Hungarian-Japanese jubilee year there will be numerous events presenting the traditional arts and music of the two countries for those interested. One of the most impressive moments of the varied cultural programme will be realised as a symbol of the friendship between the two countries. Elizabeth Bridge over the Danube will be given new floodlighting designed by Ms Motoko Ishii. As part of the celebrations of the jubilee year Magyar Posta and Japan Post Service Co. Ltd. are making a joint stamp issue.
In the Hungarian miniature sheet containing six stamps appearing for the occasion of the Hungarian-Japanese jubilee year, the stamps are laid out in the shape of a perforated letter H. The stamp designs show a few of the national values of the two countries. The Hungarian designs are a flask from the Museum of Ethnography (Budapest), Matyo folk embroidery (Matyo Applied Art Folk Collection, Mezőkövesd) and the floodlit Elizabeth Bridge (based on a photo by József Hajdú and designed by Motoko Ishii). The Japanese designs are a tea caddy from the Tokyo National Museum, a kimono pattern and Mount Fuji (based on a photo by Yukio Ohyama). On the graphics of the first day cover the design of the frame of the miniature sheet is completed, while the special postmark shows a writing hand, alluding to diplomatic relations.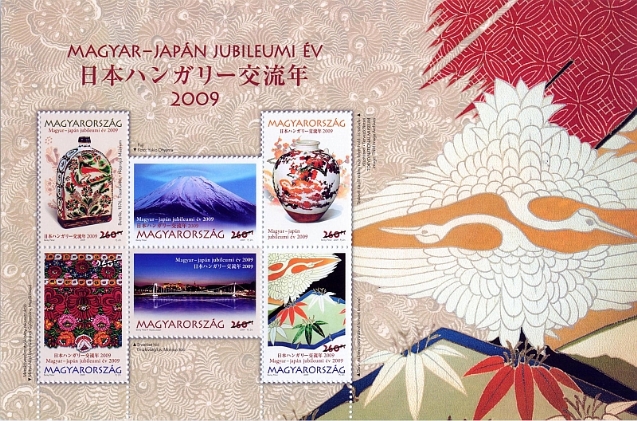 TM
Order code: 2009200040011 (stamp) - 2009200060012 (FDC)
Date of issue: 16 October 2009
Printed by Pénzjegynyomda
Designed by Péter Berky
Perforated size: 30 x 45 mm (4 vertical stamps) and 45 x 30 mm (2 horizontal stamps)
External imperforated size of miniature sheet: 215 x 140 mm.
60,000 copies of the miniature sheet are being released.
More information: philately@posta.hu