KISKUNHALAS JOINED THE POSTAL NETWORK 220 YEARS AGO
Date of issue: 29 April 2009
On the picture side of the postcard there is a view of the town with today's post office, the drawing of a contemporary post-chaise reminiscent of the past and the municipal coat of arms.
In the background of the stamp design of the postcard is a mosaic picture of a period stagecoach and in the foreground there is a post horn.
The design of the special postmark is of a stylised envelope and post horn transformed into a post-chaise.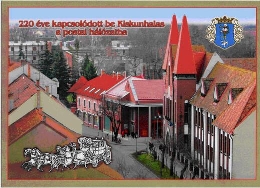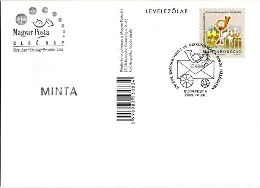 SO
Order code: 2009001090011 (mint) * 2009001090012 (FDC)
Date of issue: 29 April 2009
Printed by Állami Nyomda
Printing method: offset
Number of copies: 10,000
Designed by László Dudás