IN MEMORIAM MICHAEL JOSEPH JACKSON
Date of issue: 29 aug 2009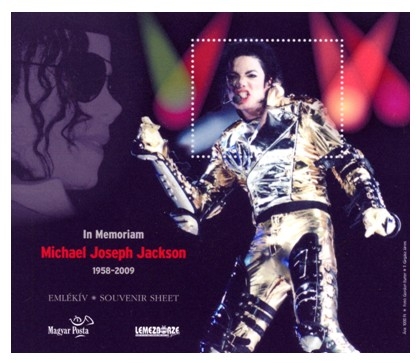 The souvenir sheet In Memoriam Michael Joseph Jackson, jointly issued by Magyar Posta and Lemezbörze,... plusz, was released on a special day, Michael Jackson's birthday.
The souvenir sheet was designed by graphic artist János Girgász using an artistic photograph by Eszter Gordon, and was printed by Állami Nyomda Nyrt. The souvenir sheet shows a scene from the Budapest concert with Michael Joseph Jackson in the perforated section. The external size of the souvenir sheet is 105 x 90 mm and the perforated size of the image within the souvenir sheet is 40 x 31.5 mm. The numbering is on the glued back of the sheet.
A total of 5,000 copies of the souvenir sheet were made in perforated and imperforated colour, and in perforated and imperforated black proof versions. The souvenir sheet and souvenir sheet packages are available from Magyar Posta's Philately Centre.The souvenir sheet may not be used to pay for postage.
The commerativ sheets are not stamps and unusable for postal services!
More information: philately@posta.hu
www.posta.hu