100CENTENARY OF THE HUNGARIAN JESUIT PROVINCE AND
Date of issue: 24 April 2009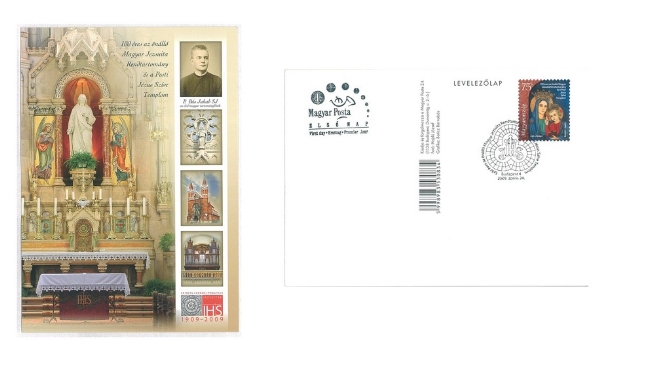 The picture side of the postcard shows the main altar of the Sacred Heart church of Pest. On the right, there is a portrait of the first head of the province, Jakab P. Bús, and beneath it there are exterior and interior details of the church, that is the façade with the angel and the organ. In the bottom corner of the postcard is the jubilee logo of the Jesuit province.
In the stamp design of the postcard a devotional picture by the painter Masa Feszty, Our Lady of the Way, is depicted.
The design of the special postmark employs a stylised drawing of the Jesuits' emblem IHS.
SO
Order code: 2009002090011 (mint) * 2009002090012 (FDC)
Date of issue: 24 April 2009
Printed by Állami Nyomda
Printing method: offset
No. of copies: 10,000
Photography by József Hajdú
Designed by Barnabás Baticz