Commemorative sheet in honour of Gábor Talmácsis world championship victory (perforated with black s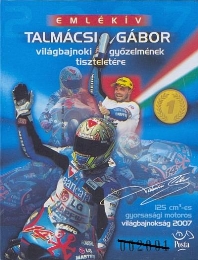 In the perforated picture within the commemorative sheet there is a portrait of Gábor Talmácsi. The commemorative sheet depicts a dynamic scene evoking the atmosphere of motorcycle races.
At the top of the commemorative sheet is the inscription "Commemorative sheet in honour of Gábor Talmácsi's world championship victory".
On the right is a graphic design referring to the gold medal with the number "1" in a laurel wreath, and below is the inscription "125 cc MotoGP World Champion 2007", the serial number and Magyar Posta's logo.
Order code: 4102973
Date of issue: 20 December 2007
Selling price: 1,016 HUF
Number of copies: 10,000 pieces
Cut/perforated size: 70x90mm / 40x30mm
Designer: Baticz Barnabás
Printed by: Pénzjegynyomda Zrt.
The commerativ sheets are not stamps and unusable for postal services!